I appear to have a good feed from the TWIA meeting. Right now, it just says, "waiting for presentation."  So, if the TWIA servers hold up under what I expect will be a heavier-than-usual load and I can successfully navigate a new live blogging plug in for WordPress, I should be able to comment on this meeting as it goes on.
15.00
So, nothing happened on windstorm insurance on the floor of the Texas Senate today.  The one thing perhaps everyone could agree on is that time is running out to change anything in this regular session of the 83rd Legislature.
12.40
They are recessing until 2:15.  The Senate Business and Commerce meeting will have a meeting at Chairman Carona's desk during the recess.  I have no idea what they will discuss.
Unfortunately, my day job is likely to prevent me from keeping even half an eye on the Senate for the next several hours, so you are all on your own for a bit.
12.20
Might be oyster and shrimp lunch time because nothing has happened on the Senate floor for quite some time.  Oh, wait. They just started up again.  But they are just reading and referring House bills to Senate committees.
11.58
Senate back considering bills, but not (yet) S.B. 1700.  The current one, on toll road conversion, is generating some actual comment.
11.31
They are into announcements rather than bill consideration.  But the chair indicates there may be additional bills to be heard today.
11.20
Senator Royce West certainly gets his colleagues' attention by saying he was adding billion to the cost of a bill on digitizing filings in civil lawsuits.  Just kidding.
10.51
Senator Larry Taylor, sponsor of SB 1700, is now speaking, but not on Windstorm Insurance. Instead, he is talking about CSSB 1560 involving easements.
10.49
Chair says, "Members, that concludes the morning call." Looks as if they are now taking up substantive bills.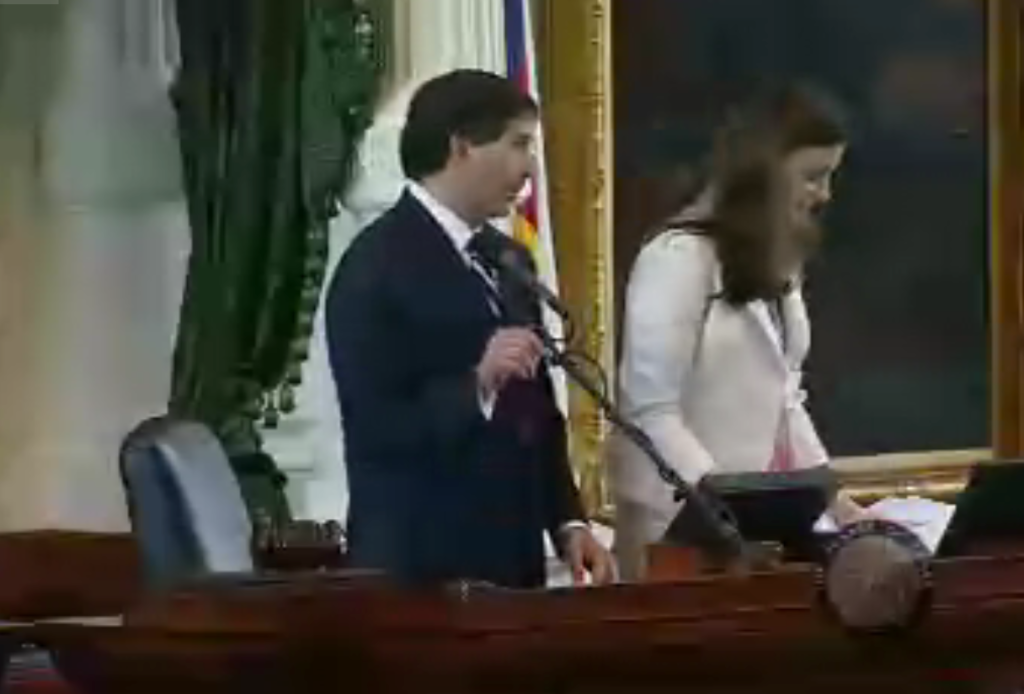 10.40
Oyster and shrimp lunch for legislators being discussed.  No Windstorm bill yet.
11.42
Senate recesses until 11 a.m. Wednesday, May 15, 2013.  Still no S.B. 1700.
11.22
Reading and referring various bills to committees.  Does this mean voting on bills out of committee is over for today?
11.03
Actual debate on the floor. Not about windstorm insurance but about the right to marry.  And not about gay marriage but about photo identification. Should one need photo identification as a prerequisite to marriage?
10.44
Not that it has anything to do with windstorm insurance, but an interesting bill for insurance junkies on subrogation rights and the "make whole doctrine".  H.B. 1869.  I'll have to read it.
10.35
Now calling bills for review.  So the procedure seems to be
1) Suspend regular order of business so that the bill can be considered "out of order"; Vote on this.
2) Floor amendments offered and voted on.
3) Move passage to third reading.
4) Motion to suspend the 3 day delay between second and third reading
5) Third reading of bill (just caption)
6) Motion for final passage.  Roll call vote.
10.01
Upbeat music now playing heralding the possible start of session.  Also, please note that due to some issue with my liveblogging software, the time stamps are an hour off.  So, if this says 10:02 I believe it means 11:02.
09.58
Nothing happening.  Various people milling around.  No sound, but I am hoping that is because the microphones are off rather than any issues with my Internet feed.
13.35
Motion to adjourn until tomorrow. Passes.  So no S.B. 1700 today. #SB1700 #TWIA
13.34
Motions being heard to suspend Senate rules to permit announcements of urgent committee meetings.  No sign of S.B. 1700.
13.31
I get the sense that if you watched this Internet broadcast for a few days you might actually understand Senate procedure pretty well.
13.26
Wow, things move fast once they get to the Senate floor.  My sense is that everything is negotiated out ahead of time off the floor.  Still no sign of S.B. 1700.  We are hearing reading and referral of various bills.
16.09
The TWIA board today decided not to decide whether to consent to a receivership, tabling the idea until its May meeting.  That leaves the ball back in the court of Texas Insurance Commissioner Eleanor Kitzman, who can try to throw TWIA into receivership without TWIA's consent.
This is also the end of the live blog experiment.  It went well until my feed went out.  Next on the agenda, hearings in Austin on SB 1089 that would "fix" TWIA by placing more of the burden on people who don't have real estate on the coast.
14.50
Alas, I must deal with reality and stop watching the blank screen.  If they're still on when I return, I'll live blog some more.  Otherwise, we'll skip the play by play and go to some analysis at the end of the day.  Thanks for viewing.
14.24
While we've been waiting, I got a phone call from another attorney who had evidently been retained to examine the possibility of TWIA making an assessment under the old law.  Looks like that attorney, examining the issue independently, was likewise extremely dubious about making an assessment under 2210.058. #twia. Lots of hurt, but I still don't see any cavalry coming over the hill.
14.21
No longer getting the error message and the little timer at the bottom says 2:25, so maybe my feed is back but they are still speaking to their attorneys.  Would not be surprised if this took a lot of discussion since they will basically be consenting to putting themselves out of business. #twia
14.07
Just got a tweet saying they are still in closed session.  So there is some hope that the video feed will emerge from what may be mere hibernation.  I am also advised that the audience has, quite literally, been left in the cold. #overairconditioning #twia
14.00
Still no connection to the TWIA video server.
13.45
I fear I have lost my feed of the meeting. Getting the mysterious Error 0-3222 message.
13.39
One of the matters brought up by Greg Smith of the Coastal Task Force was whether TWIA was being treated equivalently to the Texas FAIR plan, a sister government-sponsored insurance company. He contended, I believe, that the FAIR plan was likewise insolvent but was not being put into receivership.  This issue was also brought up by TWIA with TDI, but the TDI representative said she did not know if the FAIR plan was insolvent.
So, although I can't find a 2012 financial statement on the Web for the FAIR plan (hmm?), I can find a 2011 financial. It apparently shows that the FAIR plan was million in the red. It may be, however, that TDI thought that the FAIR plan could work its way out of this negative position.  Whether that occurred, I don't know either.
Oh. Seeing some action on the video screen for the meeting.
13.29
I just posted an excerpt of the letter from Rep. Deshotel. I now see, by the way, that the letter was signed by State Representatives Joe Deshotel (District 22), Craig Eiland (District 23), Abel Herrero (District 34), Todd Hunter (District 32), Eddie Lucio III (District 38) and Allan Ritter (District 21). This is the only thing even close to a legal argument I have found explaining how TWIA could recapitalize and avoid receivership by assessing insurers under the old statute. But, as the letter concedes, former Commissioner Geeslin did not actually say that TWIA could assess the insurance industry under the old law (although he does, I agree, come close to doing so).  But this is what good old Latin-liking lawyers call an "ipse dixit."  That's the fancy term for, "because I said so."  It's not a legal argument.  There is no evidence that former Commissioner Geeslin confronted section 44(2) of HB 4409 and had a theory for how the word "repeal" does not mean exactly what it says.  Section 2210.058 of the old law was the provision that permitted insurer assessments — and that statute was repealed four years ago in HB 4409.
Now, the more interesting question — one also raised by some of the public comment —  is whether the State Representatives are trying to set up some kind of lawsuit against someone for failure to assess adequately while the old law was in effect.  Such a lawsuit, however, is problematic in that, even if it prevails, which would likely be an uphill struggle, how is anyone going to pay a judgment?  Moreover, I suspect TWIA board members will find at least qualified immunity from suit, will be able to argue that they thought the assessment was adequate, and will question standing and duties.  Don't count on such a lawsuit fixing TWIA ever — and certainly not in the short run. And short, in this context, means at least three hurricane seasons' worth.
13.15
So, let's go to the halftime report.
We need to separate out the harm caused by TWIA being insolvent from TWIA being put into receivership.  TWIA's insolvency is a real problem in that it means, if the accountants are correct, that TWIA does not have enough money to pay claims and that it does not anticipate enough money to do so through the end of this year even if there is no significant storm. It is just fascinating that this singular fact does not appear to bother any of the speakers from the coast who came to the hearing today. Instead, the focus is on receivership.  Why? Do they think that grab law, which is the alternative to receivership, is an improvement?
The best arguments against receivership were that it might hurt the ability to obtain a Bond Anticipation Note secured by the potential for Class 1 securities being issued and that it might possibly hurt issuance of Class 2 and 3 securities. But the empirical evidence on this point is awfully thin.  It is not clear that a BAN could be issued anyway or that a post-petition receivership would hurt rather than help short term bond creditors.
The other thing that I think is clear is that the TDI Commissioner is going to act swiftly here.  She has a first mover advantage and does not need the TWIA board's cooperation. TWIA's board can cooperate, which might matters go more swiftly and less expensively, or it can make some short term political hay by opposition.  But what would it really accomplish except make some people who have demonized the incumbent insurance commissioner feel better in the short run?
The other matter I wonder about is seeing this as just one move in the Austin chess game about how TWIA is going to be restructured or depopulated.  Does the fact that it is in receivership help the argument to move towards an assigned risk plan as in HB 18? And maybe that is what this is all about.  If TWIA has "failed," then the case for propping it up may look weaker and the case for going to something significantly different, a market oriented assigned risk plan may look stronger.
And, by the way, we are now on minute 10 of the 5 minute break.
13.04
TWIA goes into a closed session at 2:05. Apparently just a 5 minute break.  Except that in my experience one should add a zero to declared break times.   Anyway, we are done with Round 1.
13.03
TDI: Why is receivership in best interests in policyholders. TWIA does not have enough assets to pay its liabilities. Current claimants may not get claims paid fully. Make sure that actual damages being sustained are given priority. [Over what? Extra-contractuals?]
TDI: We are ready to move quickly in court. But stakeholders can have input through court process. File your plan and set a hearing.  At TDI, we try to be ready for all scenarios. [i.e. they are writing a plan]/
13.00
TWIA: Who is this rehabilitator? Why does TDI think that the rehabilitator can do a better job than this board.
TDI: Insurance Commissioner appointed as receiver but a competitive bid to find a manager. We can get someone on an interim emergency basis.  There are better statutory remedies in receivership. [Like not pay claims in full!]
12.58
TDI: Rehabilitation stays and centralizes lawsuits [just like federal bankruptcy].
TWIA: What can we assume with Class 1 bonds in designing reinsurance program. Looks encouraging that we can get a 0 million BAN to help reinsurance. But receivership would make that harder said the TPFA folks [I think I have this comment correctly] TPFA said it had offer from Bank of America, though at a higher price tag. [This is an important issue]
TDI: We would be moving in and out quickly. TDI  has concerns about ability to issue BAN anyway given negative surplus. [Darned straight].
12.55
TWIA: Effect on mortgages and covenants
TDI: Freddie and Fannie accept residual market insurance.  Ratings relate to private insurers.  [So is she saying all is well with mortgagees].
TWIA: What about residual markets in rehab.
TDI: Can't predict what they would do. They have had conversations.
12.53
TWIA: Why now?
TDI: 4th quarter statement. Additional litigation that created a negative surplus. And no realistic opportunity to earn its way out. Rehabilitation would not inhibit vital reform measures on the table.
TWIA: Impact on reinsurance purchase? And post-event bonds?
TDI: Receivership can definitely create challenges. We will get a plan on file very quickly. Receivers can purchase reinsurance. The goal would be to get out of rehabilitation quickly. [Don't bet on this occurring]. Work with bond market and see what we could do. [Vague]
12.51
TWIA: What happens to this board if TDI puts TWIA in receivership?
TDI: Board would be suspended and the rehabilitator would operate with the power of the Board. Board could be reconstituted after emergence.
TWIA: We've been in administrative oversight.  We have limited authority. Why the need for this board to consent?
TDI: Things move quicker when there is consent. If rehabilitation were consented to, there would be less disruption. On the same day, the AG can go to court, enter a rehabilitation application and enter a rehabilitation order almost simultaneously. We would soon have a rehabilitation plan. Fears would be quelled. If we have a contest, there will be more uncertainty and delay. At TDI, lack of disruption is important.
TWIA: A lot of the testimony we have heard today about nervousness of bankers etc. — at least there would be a plan to take care of it.
TDI: Yes.
12.48
TDI: Being back to zero balance would be enough to get it out of receivership.
TDI (Jamie Walker). Based on projections for TWIA income there will still be negative surplus at the end of this year.  And this is in case there are no "hiccups" [like a hailstorm?].
TWIA: Is the FAIR plan insolvent? It too has a negative surplus.
TDI: I don't know.
12.46
TDI: Rates would be continued under the current statute, unless laws are specifically changed.  [TDI being very careful and lawyerly in its answers.  Lawyerly used as a positive adjective here].
TWIA: What would be the standard to get TWIA out of rehabilitation given that TWIA is not generally supposed to have surplus.
TDI: TWIA is not required to have an excess of surplus. TDI lawyer specifying basis for receivership. Insufficient assets, not an inability to pay bills.
12.43
TWIA: that paints a pretty rosy picture.  What other states did you look at?
TDI: More than 25 states have this law.  Modeled it after NAIC act.
TDI: Rehab has not been used in the residual market before.
TDI: Process depends on specific case. If something were to happen, we would move very expeditiously. Move to rehabilitation. Rehab order by the court. Rehabilitator would file a rehab plan within one year, but it could be done in a matter of days. How were claims going to be paid and what the process would be.
12.41
TDI has no specific comment, but available to answer questions.
TWIA Board now asking questions. Receivership has a stigma. Could TDI  talk through pros and cons of receivership?
TDI: Two types of receivership. Rehabilitation and liquidation. Rehab akin to a Chapter 11 in bankruptcy. Purpose is to revitalize an insurer so it can go into the marketplace. Company can pay claims, issue policies, without market disruption.
12.38
Public comment over. Moving on. Consideration of following topics: Review options for addressing financial condition of Association.  Including receivership. Notes representation from TDI.
12.37
Eddie Cabazos — Item on agenda to go into closed session. Is that not a violation of the open meeting act? [No.]
Answer — The Open Meetings law requires final action to be taken in open session. but advice of counsel can cause a closed session.
12.35
Tom Tagliabue, Government relations person for the City of Corpus Christi. Also opposed to receivership.
12.35
Joe Vega, Mayor of City of Port Isabel [again apologies for misspelling of names].  Will hurt small businesses.
Mr. William Goldsten, Corpus Christi — Negative economic impacts to engineering and construction profession along the Gulf Coast. [You know, these are probably all fine people, but that is not the issue.  The issue is whether receivership is the best way to address TWIA insolvency.  The fact that the legislature is in session is relevant, but not dispositive.  Grab law is the alternative to receivership.  Receivership is really a code word for insolvency.  In law school, we call this argumentative technique, "fighting the hypothetical] It will create chaos along the coast. #twia. Reduce the discrimination against the coast.
12.31
Eric Sandberg, Texas Banker's Association — We need to have viable insurance in place, particularly from a regulatory standpoint.
12.30
Eric Sanburg, Texas Banker's Association — skipped
David Garza, Cameron County.  [Ever get the sense this might be a bit one-sided presentation of commentary?  Looks like the coast, whose ox appears gored, has gotten its political act together whereas diffuse other constituencies have not]. Receivership is not the answer.  Let the legislature do its job. If we don't get adequate results from this legislative session, do what it takes to make us solvent.  Our bankers and mortgage holders are nervous. [Let alone homeowners and businesses!]
12.27
Foster Edwards, the Corpus Christi Chamber of Commerce. CCCofC has been working with TWIA staff for years. A "bonehead idea, frankly." Expressed well in letter on page E4 of packet, signed by four state representatives. [Is this the Deshotel letter that I just posted to this blog.]
12.24
Mr. Perkins with the Coastal Windstorm Taskforce: Mayor of Ingleside. We speak with one voice in opposition to go into receivership.  Again the argument that assessments are available.  [Has it occurred to anyone to actually read the statute?]  Development will be hurt. [Maybe industry could pay people extra to help purchase insurance?] Let the legislature do its job. Create a transition from TWIA to some other entity but not an instant effect on the market.
12.22
Charlie Zahn, Coastal Windstorm Taskforce: Close to matching up bills for final consideration by Senate. [Really?]  Legislative process needs to take care of this issue. Receivership implies TWIA does not have the ability to pay its bills in the future. You don't have the basis for receivership. Trust fund in place.  You have the ability to assess. [HOW??] We are a viable entity. #twia. Already had a negative impact on Texas coast, including banks. [Probably true] Can they continue to provide mortgage loans. [Yes, a legitimate concern.  But is it receivership that is causing the problem or the insolvency.]
12.18
Greg Smith, Coastal Taskforce: Question of solvency should be judged as a residual carrier, not as a private insurer.  There are other residual carriers that are much worse off than TWIA.  National Flood, New Jersey FAIR Plan and Louisiana FAIR plan are worse off. Yet no question about their solvency. Will send messages to other carriers across the nation.  Rating agencies say you don't have to have positive surplus.  [The everyone is doing it defense?]
12.16
Anne Vaughan, Port Aransas Chamber of Commerce [my apologies for any misspelled names]. Oppose what is "nothing more than an insane idea." [Why is it insane to put an insolvent entity into receivership? Kubler-Ross stages of grief comes to mind. Denial. Anger] Has unconfirmed Commissioner of Insurance thought this through? TWIA is our only source of insurance. [But if it were not, one would never know if TWIA premiums were too low]
12.13
TWIA board member distinguishing between comments of TWIA and comments of TDI.
12.12
Joe McComb of Nueces County: Precinct 4.  The fun part of Nueces County. I do know people are concerned about coverage.  If they've got TWIA, they've shopped coverage and they have no alternative.  Worried that the decision has been made. [Yup]  Give legislature 60 days to solve this problem.  Good part of having a crisis is that the legislature is in session.  Place faith in elected officials. It will take 60-120 days to implement receivership anyway.  [Most persuasive speaker so far].
12.09
Keith McMullen with Port Aransas: Mayor of Port Aransas. Please don't pursue receivership. Don't case doubt on insurance market on the coast. Already created nervousness.
12.08
Schlitterbahn Waterpark representative speaks:  How will receivership impact existing contracts with lenders and vendors? TWIA receivership creates uncertainty that will chill business. [True, but what is the alternative if TWIA is insolvent? — SJC]. Before TWIA placed in receivership, other funding alternatives should be explored. [Like what? Assessments?]  My editorial comments are in brackets.
12.06
Jim Rich of Beaumont Chamber of Commerce: Very concerned about receivership. Notes importance of coast to economy. Wants a legislative solution. Let the legislative process work.  [But what if nothing happens? — SJC]
12.03
Public comment limited to 3 minutes with a timer. No more than 30 minutes to public comment period before moving to the rest of the agenda.
11.59
If you can see this it is a part of Rep. Deshotel's letter.   It's the first inkling of any legal theory behind the idea that TWIA can still asess for Ike.  Don't expect insurers to buy it.

11.55
Meeting is beginning.  One can see people milling on the video.
11.53
Channel 12 News (Beaumont) reports that State Representative Joe Deshotel has issued a press release opposing placement into receivership. Add him to the list of people whom I believe are mistaken on the law.  Here's what he says in his letter:
If the Board would simply follow the law in place for these 2008 policies by assessing the insurance companies and moving the premium money to the Trust Fund, which currently has 8 million, TWIA would have over 5 million, which is hundreds of millions more (50%) than the Trust Fund has ever had!
11.46
In theory, you should also be able to follow this blog on Twitter using the hashtag #twia
11.40
Here some issues I expect to hear discussed at the meeting:
1) Is TWIA really as insolvent as its annual statement asserts (i.e. 3 million in the hole).  There are occasionally discretionary choices that get made in insurance accounting.  And there are occasionally mistakes.  Does anyone have a credible argument that TWIA is not seriously insolvent?
2) Assuming TWIA is insolvent, what, if anything, is the real alternative to a receivership?  When an entity is insolvent, as TWIA apparently is, that means some creditors can not be paid in full. If you fail to create an orderly process to pay claims, it means that the entity gets taken apart piecemeal and that different creditors are randomly (or systematically) treated worse than they should be. This is why we have insolvency law and (in most instances) bankruptcy law. Why should TWIA be treated differently?
3) Is there any authority as several coastal politicians have maintained to help TWIA out by assessing insurers for losses attributable to Hurricane Ike?  This blog has repeatedly maintained here, here and here that there is no such legal authority and that the old legal authority, section 2210.058 of the Insurance Code, was repealed in 2009.  Let's see if there is anything more than denial or bluster behind the claim that TWIA can assess insurers without there being a new storm that would justify the issuance of public securities?